This had to happen the second time I made a huge crock pot full of Sloppy Joes.  Let me tell ya, this Sloppy Joe Shepherds Pie was pretty unbelievable.  I'd never thought of making Shepherds Pie out of Sloppy Joes, but what a brilliant idea!
All those leftovers are sooo… inspiring!! And it makes for a super quick and easy dinner 🙂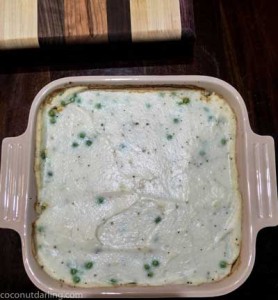 I was nice enough to top half of this with cheese for my little army of men.  Now that's a win-win situation.
Of course I didn't take a pic with the cheese.  I try to keep the food porn to a minimum.  I know how tempting it can be.
This is tempting too!!  And it's legal 🙂
Did you know that peas are a legal legume on the Paleo diet?
Yay for peas!!  Green beans too, guys.
Reason being:  they are picked and eaten fresh.  They are not dried out like other legumes.  Cooking the peas and green beans drastically lowers the phytate content.
Just so you know, phytates prevent our bodies from absorbing nutrients and minerals.  Phytates are in grains, beans, nuts (soak your nuts) and potatoes.  So, beware.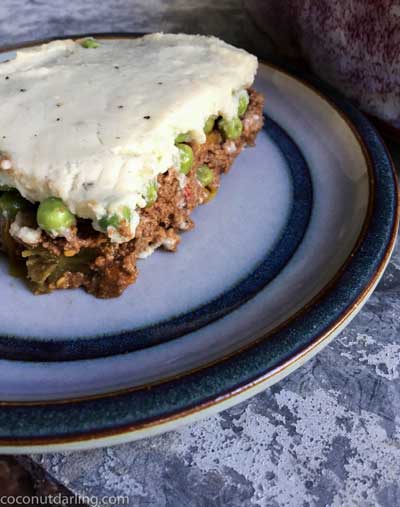 I topped these off with my favorite Caulimash.  Several years ago I came across a recipe that added a dash of nutmeg to mix.  Do it.  What it does to the flavor is, well, unbelievable.  My descriptive words are just on fire today!  Haha.
Ain't lyin' though.
NUTMEG.  
Also, I am very blessed to be able to add the creamy, cheesiness of greek yogurt.  If you aren't quite as fortunate as I, just make a quick swap for coconut cream.  You'll never know what you're missing ;P
I used the last bit of my cherished Butter Oil on this batch of mash.  And tasty was it.  I have also used bacon fat.  MMMmmmmm.
Next go round I'm going to give Mr. Ghee a shot.  I've been warming my body up to him lately.  They are seeming to get along.  Poor, cherished Butter Oil.  I hope you never lose a place in my heart.
Ghee will definitely be able to fill the shoes, though.  And if you know you him, you would agree.
Ghee is butter, basically.  Here's where it's different, it's clarified.  Ghee is the oil (fat) that is left behind after the butter has boiled off all of it's milk solids, making it lactose and casein free!  It has a very high smoke point (almost 500F).  No need to refrigerate either!
Ghee is packed full of nutrients:
Omegas 3 and 9
Vitamins A, D, E and K ( a great source for K)
It's loaded with short, medium and long chain fatty acids, both saturated and unsaturated
It's one of the highest natural sources of CLA
It has 9 phenolic antioxidants
Among many health benefits:
The medium-chain fatty acids boost your energy.
Omega 3s protect your heart by lowering cholesterol levels.
It contains butyric acid which decreases inflammation in the body (especially the gastrointestinal tract).
The combination of CLA, butyric acid and vitamin A produce a powerful anti-cancer substance  that reduces oxidative stress in the body.
Vitamin A helps protect the macular cells in our eyes and prevent degeneration and development of cataracts.
Butyric Acid stimulates the production of T-cells in our body.  T-cells help our immune system fight off diseases.
Everything in moderation guys.  As good as something may be for you, it may not be good to over do it.  This is fat we are talking about here.
When choosing fats, or carbs, or sugars make sure to choose the best for your body.  Indulge knowing that you are doing a body good.
That's all for now 🙂
Sloppy Joe Shepherds Pie
Prep time:
Cook time:
Total time:
Ingredients
2-3 cups prepared Sloppy Joe
2-3 cups prepared Caulimash
12 oz bag of frozen (or fresh) peas
Instructions
Preheat the oven to 350F.
Use a 9X9 and begin to layer your shepherds pie. Sloppy Joes on the bottom, then the peas, and topped with the Caulimash.
Bake 20-30 minutes. If you do decide to get a little crazy and top with cheese be sure to do so the last five minutes of baking.
Paleo Sloppy Joes
Prep time:
Cook time:
Total time:
Ingredients
1½ lbs grass fed ground beef
1 c chopped onion
1 c diced green peppers
a few stalks of diced celery
¾ c water
1 T coconut sugar
2 T coconut aminos
1½ t chili powder
1 t onion powder
½ t cinnamon
½ t pepper
salt to taste
Instructions
Brown the ground beef in a skillet. Strain off the liquid. I usually do this the night before.
Add all of the ingredients (with the ground beef) to a crock pot. Give it a little stir. Cook on high for 4 hours or low for 6-8.
This gets better and better every day.
Caulimash
Prep time:
Cook time:
Total time:
Ingredients
1 cauliflower head cut in to chunks
3 T greek yogurt (could sub with coconut cream for dairy free option)
2 T coconut milk
1 T butter oil, bacon fat or ghee
dash of nutmeg
½ t salt
pepper to taste
Instructions
Cook the cauliflower in a pot of boiling water until fork tender. This usually takes about 8 minutes.
When ready, transfer the cauliflower over to a nut milk bag.
Place the bag of cauliflower in a colander. Make sure to put a bowl under the colander to catch all of the excess liquid you are fixing to mash out. Use a potato masher to mash and squeeze out all of the excess liquid.
Once you are satisfied add the cauliflower and rest of the ingredients to a medium size bowl and mix well.
References: