I miss pasta…of any form.  And, yes, I do occasionally cheat.  You only live once.
I just try not to make a habit of it.
And if I do, I'm sure to use this stuff…  It's magic.  No more sour tummy after ice cream cheats.
Luckily, with this Gluten Free Gnocchi, I feel like I'm cheating.  Now, that's always a good feeling.
I love this recipe because you think you're eating pasta, but you're really eating your vegetables.  The kiddos loved these!
I had a harder time getting them to eat the brussels but atleast I was able to sneak the cauliflower in there.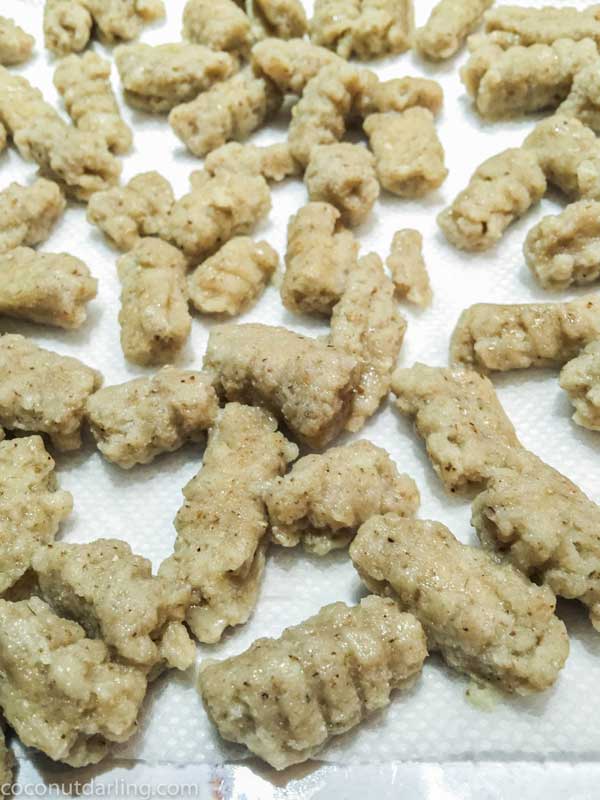 I wouldn't have been able to sneak the cauli in there had I not found this amazing recipe over at Reclaiming Provincial.  Carey really knows what she's doing.  And you can tell.
I did have to play around with this recipe to make it egg free, dairy free and gluten free.  Thank you, Jesus, for the skills you've blessed me with.  He overdid himself on this recipe 🙂
So…
Firstly, you will want to make some Cauliflower Mash.  Unfortunately, this stuff stinks up the whole house.  Just don't judge a book by it's cover.  I promise we will cover up that smell before we dig in.

Cauliflower Mash
Prep time:
Cook time:
Total time:
Ingredients
1 medium head of cauliflower, chopped
1-2 t onion powder
salt
Instructions
Fill large saucepan about ¾ full of water and put over high heat.
Put chopped cauliflower and a few pinches of salt in water and bring to a boil. Cook until tender (about 20 minutes).
Remove from heat and strain.
Place in a food processor along with onion powder and blend until smooth. Add salt to taste.
Notes
You can freeze the left overs if you like.
Gluten Free Gnocchi
Prep time:
Cook time:
Total time:
Instructions
Stir together the gelatin and water. Make sure there are no clumps. Let sit for 5 minutes.
In the mean time combine all of the dry ingredients in a small bowl.
In a large bowl, combine the cauliflower mash, gelatin mixture, coconut butter and apple cider vinegar. Mix well.
Then add the dry mixture (about ½ c at a time) to the wet mixture and combine.
Turn the dough out onto a floured surface and knead a few times until the dough becomes less sticky.
Cut the dough into four equal pieces.
Take a section and roll into a long rope about 1 inch thick. Cut into 1 inch long pieces. Or use this quicker method.
Use afork (or gnocchi board) to shape the gnocchi. Repeat with the rest of the dough.
Now it's time to cook. Bring a large pot of water to a boil. Add the gnocchi (one at a time as to not stick) and cook until they float. Drain on a paper towel as you are finishing the rest.
Add the ghee to a saucepan over medium heat. Once melted add the gnocchi and let cook a few minutes on each side until nice and brown.
I tossed in brussel sprout leaves at the very in and topped with lemon zest and a dash of nutritional yeast. Parmesan would go nicely too. Also, feel free to use other greens of your liking. This is just a suggestion.
Notes
The dough can be frozen for later use.