The absolute, most perfect plate of Coconut Macaroons.  Aren't they just lovely?  The texture beats all too!  Soft and fluffy.  Gosh, that word always reminds me of Despicable Me.  "It's so fluffy!"  Now if I could magically shape them into unicorns.  Strange thought…I swear I've seen or heard or talked about unicorns way too much in the past several weeks.  What is God trying to tell me?  
But seriously?  Ok, finished being weird.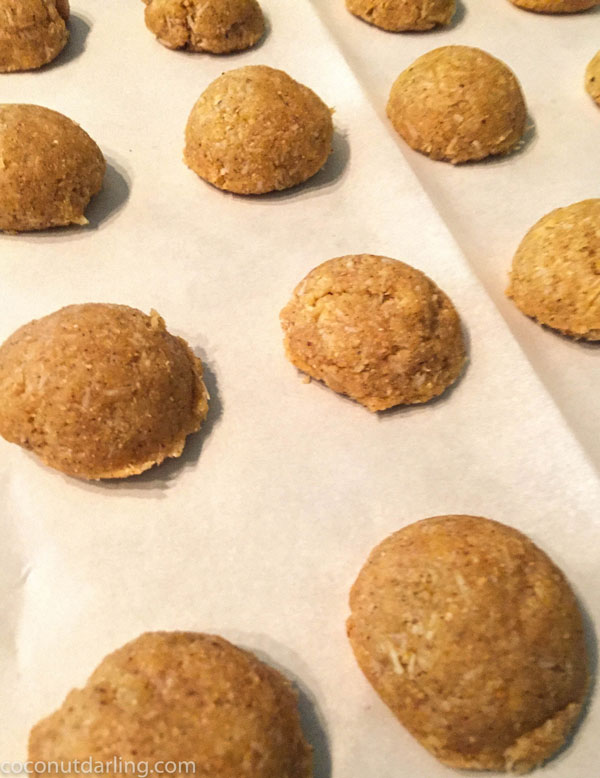 So, let me tell ya how these little guys came to life.  I was shopping around in Fresh Market, on a Tuesday, because thats when they have their amazing $2.99 Tuesdays Sale, which has now ended (and I'm in tears about).  I walked down an aisle that I NEVER walk down and right there in front of my face where these Wonderfully Raw  Vanilla Maple Coco-roons. It seemed legit.  I could actually have every listed ingredient on the bag.  They use all organic and non-GMO ingredients in their products.  Of course I checked out their website when I got home…only to find out that they had even more amazing things that I could eat!!  There are a gazillion flavors of the Coco-roons.  They are even offered in a mini size.  But what I'm even more excited to try are their Brussel Bytes and  Snip Chips.  And, of course, those come in many flavors as well.  Reasonable prices too (considering the quality of the product).
Hey, you are what you eat.
As I read through the list of ingredients…
dried unsweetened coconut, almond flour, unfiltered maple syrup, cold-pressed coconut oil, vanilla extract, himalayan crystal salt
…all of which are organic and certified by the ASCO, I got a strong feeling that I would be attempting these at home.  And I did, twice.  They were amazing both times.  The second batch got dipped in coconut.  Gotta make 'em extra purdy for you 🙂
I was so happy to see Himalayan Crystal Salt as one of the ingredients. Why?… you might ask.  Because my lovely husband surprised me with some Pink Himalayan Salt just a few days prior.  What more perfect ingredient could a girl want!?  I've told you before about my love affair with salt.  And it's pink.  Thanks Bae!
You might notice that I have a much more complicated recipe then the original.  Reason being, I didn't want to use a ton of almond flour.  It always feels much heavier on my stomach.   By adding the coconut flour along with the squash flour I am able to lighten my load as well as add extra nutrition.  However, if you prefer not to have a complicated order, then by all means use all almond or a happy mixture of coconut and almond.  Just remember that Coconut Flour absorbs more moisture than Almond Flour (or any other flour for that matter).  In other words, it takes about 3/4 less coconut flour to do the job of other flours. I do believe the squash flour added an extra fluffiness to the macaroons.  Just so ya know.
I am also super excited to make these in new flavors!  I hope you don't have to wait too long for the recipe.  I used up all of my shredded coconut.  I can't find it in any of my local stores.  Bummer.  Thank goodness for Amazon Prime yo.

Coconut Macaroons
Prep time:
Cook time:
Total time:
Instructions
Preheat the oven to 350F. Prepare a sheet pan with parchment paper.
Combine the almond butter, maple syrup, coconut oil, vanilla and vanilla beans in a small bowl.
Combine the rest of the (dry) ingredients together in a large bowl.
Add the wet mixture to the dry and stir until combined. If you don't have squash flour, replace it with almond flour. Let the batter rest for a few minutes.
I prefer a small/medium size ice cream scoop to shape these guys. I've also used a round tablespoon as a mold and scooped it out with a teaspoon (you will have to slightly reshape with this method).
After you've shaped all of your macaroons you can begin dipping. Put some coconut in a bowl and dip the macaroon in. Make sure to get the edges of the macaroon. It sticks fairly easy.
Now, into the oven they go.
How did you switch up the recipe?  I'd love to know!!  Leave a comment below.
References: