This one's for the vegans out there.  I tend to use gelatin as my go to "egg replacer".  But sometimes it's just nice to switch things up.  And these Chia Pancakes hit the spot!  Annddd they're super d-duper easy.  You don't even need to let the chia seeds soak!!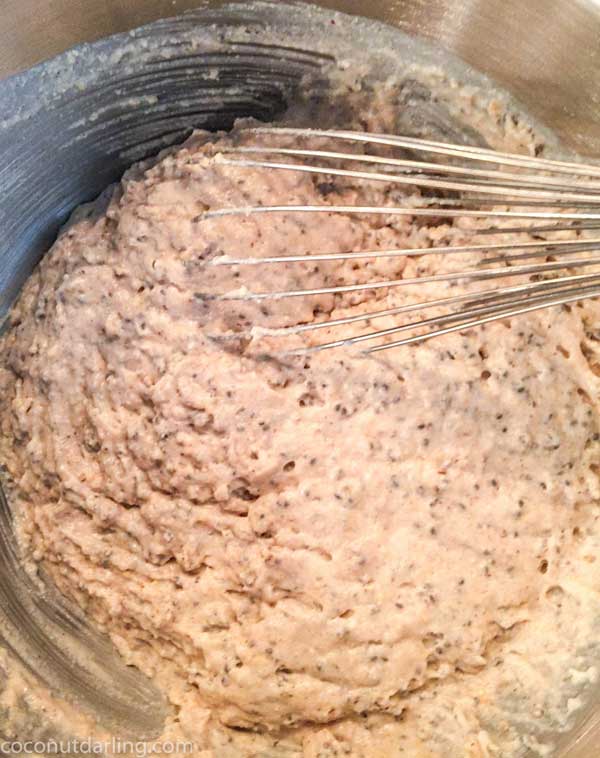 See how much thicker the batter is on the left compared to the right?  That's what happens after you let the batter rest for a few minutes.  The chia seeds really help bind things together.  No need for eggs here.  I knew chia seeds weren't living up to their full potential as a kid.  Ch-ch-ch-chia pets.  Really?  I mean it did kinda prepare my future as a hairstylist.  Ok, ok, thank you Chia Pets.  You played your role in my life.
But now they are playing a much better role in my life.  They are chock full of nutrition and give you a major energy boost.  Which I welcome due to my sensitivity of coffee.  Tragic, I know.
Fun facts about Chia seeds:
They've been linked to healing diabetes (due in part to the high levels of fiber).
At one point Chia Seeds were used as currency.
Aztec warriors used to eat them to sustain them for up to 24 hours during long runs and battles.
Chia seeds create a gelatin like substance which ends up working as a prebiotic in your gut (promoting the growth of probiotics).
Just a serving a day of chia seeds will help you boost your metabolism and reduce belly fat!!
Chia seeds can absorb up to 10X their own weight in water which helps us with our hydration levels as well boosting our nutrient absorption of electrolytes.
Nutritional Value of Chia Seeds:
42%RDV Dietary fiber

Which helps regulate bowel health.  It also helps you fill fuller quicker.  Appetite suppressant?  Weight loss?  Yes!!

9%RDV Protein
18%RDV Calcium

Build stronger teeth and bones!!

35%RDV Copper
27%RDV Phosphorus
1%RDV Potassium
7%RDV Zinc

It helps our body increase leptin, which is a key hormone in regulating our appetites and how our body uses energy.
Promotes teeth health by preventing the build up of plaque.

4915mg Omega-3 fatty acids

Helps to lower blood pressure, bad cholesterol and inflammation.  Say yes to chia for your heart health!

1620mg Omega-6 fatty acids
Plus Added Bonuses of:
Essentail fatty acids: Alpha-linolenic and linoleic acid

These help the body to absorb fat-soluble vitamins such as A, D, E and K.  This is also one of the helpers (along with fiber) in the cure for diabetes by removing excessive fat out of the blood.
This fatty acid helps limit the growth in both breast and cervical cancers.

Mucin

Reduces inflammation in the digestive system.

Strontium

Aids in making cartilage and joint capsules as well as bones.

Vitamins A, B, E, and D
Essentials minerals: sulphur, iron, iodine, magnesium, manganese, niacin and thiamine
High in antioxidants

Which prevents premature skin aging due to inflammation.  They reduce up to 70% free radical damage.
A little word of advice…everything in moderation.  Like anything loaded with fiber, consumed in mass amounts, can result in a tummy ache.
A hefty thank you to Running on Real Food for inspiring me with this recipe!!  I had to make it gluten free, of course.

Chia Pancakes
Prep time:
Cook time:
Total time:
Instructions
Whisk together flour, cream of tarter, baking soda, salt, chia seeds and cinnamon.
Stir in maple syrup, vanilla, coconut milk and vinegar.
Allow the batter to rest 5-10 minutes.
Preheat your griddle to 350F or frying pan over medium heat while the batter rests.
Use coconut oil or ghee to lightly grease your pan or griddle.
Use an ice cream scoop or ¼ c to scoop the batter into the pan. Cook on each side 3-5 minutes.
Serve immediately.
Notes
Feel free to make a double batch and free the left overs. Put wax paper between each pancake for ease of separation. Oh, allow them to cool before storing them.
And I just had to top my with some 'naners and freshly made date
"caramel"
sauce.  I'm just going to apologize right now for being such an
"eyeballer"
cooker.  Hey, I'm just trying to keep it simple.  Isn't that what we all want out of life?
Here is my "eyeballer" of a date "caramel" sauce recipe:

Date "Caramel" Sauce
Prep time:
Cook time:
Total time:
Ingredients
3 heapings of date paste
3ish T of coconut milk (or water) until desired consistency is reached
1 t vanilla (or a vanilla bean if you're feeling fancy)
dash of salt
Instructions
Stir everything together until nice and smooth.
If you're feeling crazy and need an extra touch of sweetness, feel free to add a dash (or two) of maple syrup.
Don't be afraid to taste before you serve. Gotta make sure it's to your liking!!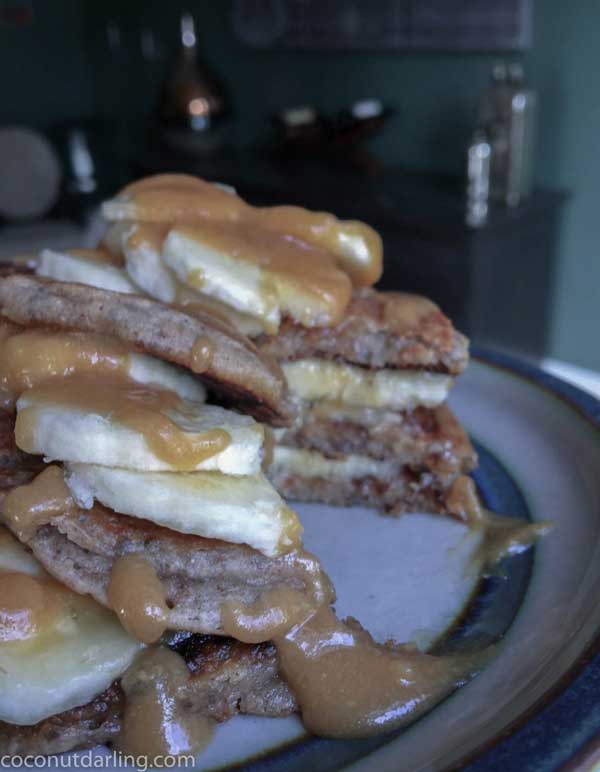 So, whatcha gonna top yours with?
References: