as you wish
My dear Buttercup 🙂  I love The Princess Bride!!  Dear Westley!!  Remember, ladies!?  I dreamed of being Buttercup.  And look at me now…he-he-he (I might have just whipped my hair slightly back and forth).  Totally kidding.  What I meant was…how am I not to buy an adorable buttercup squash?  Anything with that kinda name has to be good, right?  Or at least I'll make it good.  I promise these guys are worthy enough to be called Buttercup Muffins.
Have you ever seen a buttercup squash?  It looks like a smaller green pumpkin.  The innards are bright orangish-yellow lending towards a sweet, nutty flavor.  Perfect for desserts!  The flavor isn't overwhelming either.  I am also in love with the texture of this baked squash.  It's much dryer and less fibrous than your typical pumpkin or squash.  The result: smooth, creamy texture.  Ba-da-bam.  Best ever, I have to say, cuz my hubby said.  And he'll never know what these babies are packing!!  Tons of vitamin A, B and C!!  Then you got calcium, magnesium, phosphorus and potassium.  Your family will never know what him 'em.  What a minute…you can actually feel better after eating dessert?  Why yes…and your welcome.
Ain't day purdy?  I been freshen' up on my pipin' skills…Yo.  Hey, I was impressed.  It didn't last long though.  I put 'em straight in the microwave (don't judge) for about 10 seconds…you could only imagine.  Oooey-gooey goodness.  Rinse and repeat.
Yes I did.
I'm going to be open and honest…I've cooked two buttercup squashes (squashs, squashes', squash's, oh well) in the past two weeks.  If you look at the recipe you will discover that you only need 1 cup per batch.  I will not tell you how many "cups" of mashed squash you get from a single buttercup.  You can judge me when you cross that line yourself.  These things are addicting.
Then I had to go and do a little experimenting.
First batch…KISS (keep it simple stupid).  Muffins.  And if you notice in the above batch, they are a little darker.  I used half Sunbutter and half almond butter.  And just so you know, there is a chemical reaction with sunflower seeds and baking soda that will turn your baked goods green!!  It tastes fiiinnneee, I promise.  In this case it ended up being a nice chocolatey color.  Too bad the flavor didn't match.  If I could do cocoa, I would totally be adding a tablespoon full to this batter.
Next batch my hubby helped me get a little cray cray.  PB&J.  Why not.  I slapped that dough down in a sheet pan faster then you can say…sheet pan.  Sheee-at pan.
Sorry.
After baking, I tackled it with a pizza cutter and made the biggest dang (gluten free) PB&J that I've ever seen.  I could only handle half of it.  But trust me, it did not go to waste.  Saving that baby for a grilled PB&J.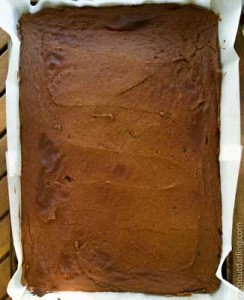 Of course I didn't use PB…almond butter all the way!  I did make my own blackberry jam though.  They were on their last legs in the fridge.
Blackberry Jam
Prep time:
Cook time:
Total time:
Ingredients
12 oz blackberries
½ c coconut sugar
1½ T fresh lemon juice
dash of salt
Instructions
Pulse the blackberries in a food processor.
Place in a sauce pan over medium heat along with the coconut sugar. Mix well.
Reduce the mixture to about half, about ten minutes.
Remove from heat and finish off with the lemon juice and dash of salt.
Store in the refrigerator.
I know you are
drooling
over the frosting on the muffins…I'll go on and share that recipe with you as well.  The original recipe is called "Magic Peanut Butter Frosting".  
Where the hell did I find it at!!?  
I hate when I don't
"Pin"
things!!  White girl problems.  It called for all kinds of horrible things…you wouldn't have liked it anyways ;P
Almond Butter Frosting
Prep time:
Cook time:
Total time:
Instructions
Whisk the flour and milk together in a pot over medium-high heat.
Once the mixture has thickened slightly, remove from heat and add the coconut sugar. Mix until it has melted.
Add the rest of the ingredients along with the warm mixture to a food processor and blend until smooth.
Place in the fridge until cooled.
The frosting pipes better when it has firmed up. If you are wanting to spread it on the muffins, just slightly cool the frosting so that it is still spreadable.
And finally, what you've all been waiting for…
Buttercup Muffins
Prep time:
Cook time:
Total time:
Ingredients
¾ c nut butter
8 medjool dates, soaked
2 t vanilla extract
1½ t pumpkin pie spice
1 t cinnamon
1 t baking soda
½ t salt
½ slightly spotted banana
1 c buttercup squash (cooked and mashed)
Instructions
Be sure to pre prep your buttercup squash and medjool dates. I usually do the squash the day before. These guys can be really quick and easy if you do the prep work 🙂
Preheat the oven to 375F. Prep your muffin tins with parchment muffin cups or prep your sheet pan with parchment paper.
Throw all of the ingredients into a food processor and blend until smooth.
I used a mini ice cream scoop for minis and a regular ice cream scoop for "regular" muffins. If you are going to use a sheet pan, just spoon it out onto the sheet pan and spread the mixture out evenly. I've baked all of the variants and they all have taken 20 minutes. Life is wonderful!
Be sure to let cool. They don't fall apart too bad, but just be patient.
They refrigerate well. They are also amazing heated up.
This absolutely amazing
recipe
is courtesy of Miss
Alexandra
over at
Made to Glow
.  She has many great gluten free and dairy free recipes to choose from.  This one was impossible to resist.  She leaves you with the option of switching out the egg for 1/2 a banana.  You'd never know it.  I didn't use a super ripe banana because I wasn't looking for the added flavor.  I also decided to use my new found friend "buttercup".  This guy will be around all winter.  Eat up!  Alexandra uses cashew butter in her recipe.  That would be absolutely
amazing
and
my first choice had I not become sensitive to it.  Dag-nabbit!!
I've already experimented with Sunbutter.  Perfecto.  Macadamias might have to put their two cents in soon.  Add a little cocoa and chili powder – sans the cinnamon and pumpkin spice!!  Come on guys, brainstorm with me here.  This texture is way too perfect to not use and abuse!