I am so excited to introduce you guys to this little gem.  Ain't she a beaut'!?  Yes, they do have an avocado in there somewhere.  Luckily, your kids will never know.  The technical name is Berry Avocado Muffins, but leave out the "avocado" when you go to share these with anyone.  Tell them after the fact.  They won't believe it, and you will be magical.  Like a unicorn.  They do exist.
I've always been tempted by all of the amazing sweets that pop up on my Pinterest feed.  I used to not even browse my feed because I would get depressed.  I would only go to healthy boards that I followed.  That got pretty boring, pretty fast.  Now, I've decided that I can make those things for myself!  And for you!!  See, life is fair!!
And if it wasn't for me overcoming the fear of being depressed by the temptations of amazingly sweet and yummy food, then I would never have found this recipe…  Or Ali, from Gimme Some Oven.  Hanging out on her blog will only leave you feeling starved and disgusted by all the food that's at your house.  If only Willy Wonka had figured out the telecommuting thingy.  It's kinda like us girls looking in our closets…there is nothing to wear, even though it is jam packed full of clothes (some even with tags!)  My own fridge and pantry can tend to be full of things that I never feel like using.  You know what that means…clean up, clean up, everybody, everywhere…clean up, clean up, everybody do their share.  I know you just totally sang that.  See what I did, know you're in the mood to clean out your fridge!  Now go!!!  Next time, promise yourself you will fill it with things you will actually use (and not throw away because it was stuck in the back and you forgot about it and it's covered in mold now).  That's gross.  Never happened to me.  I pity you poor souls who let this happen.  ;P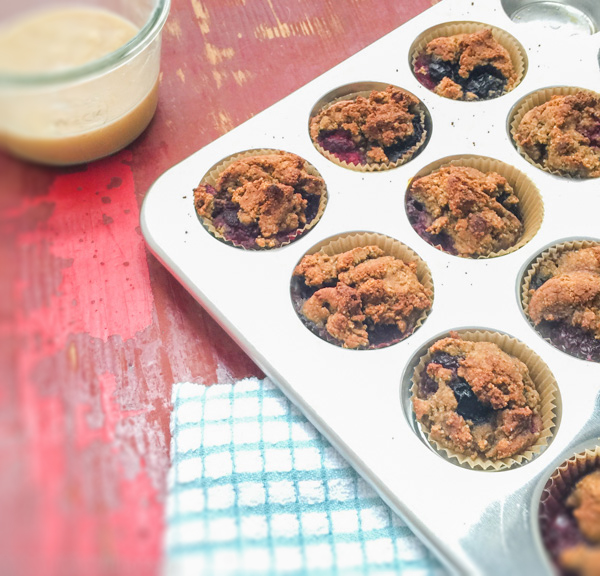 These muffins are fairly easy to make.  I almost always have a large batch of my Gluten Free All Purpose Flour in my freezer.  All the dry ingredients are mixed together in one bowl and the wet ingredients are thrown in the Ninja (or, if you're lame and don't have one, you can use a hand mixer).  Don't let the gelatin egg stop you.  If you can tolerate eggs, throw one in and omit the gelatin egg.  If you haven't taken the time to get the gelatin yet (lame, again) and are sensitive to eggs, you would probably be able to substitute with a flax egg or chia egg (the process is the same for both).  I can't handle those guys, though.
And hey, if you ever need a helping hand with suggestions for substitutions, just ask.  I love trying to figure it out.

Berry Avocado Muffins
Prep time:
Cook time:
Total time:
Ingredients
1½ t baking soda
1 t cream of tarter
1 t salt
1 t cinnamon
1 ripe avocado
¼ c coconut sugar
15 drops stevia sweetdrops
1 T vanilla extract
1 T apple cider vinegar
¾ c greek yogurt
***1 gelatin egg***
1½ c berries
Instructions
Preheat the oven to 375 and line your miniature muffin tin with paper liners.
Add the flour, baking soda, cream of tarter, salt and cinnamon to a medium size bowl and mix.
Start heating up your water for the gelatin egg now.
Add the avocado, coconut sugar, stevia drops, vanilla extract, acv and greek yogurt to a food processor or mixer and blend until smooth.
***To make the gelatin egg, add 1 T of gelatin to ¼ c of boiling water, stirring continuously. Once, all the lumps have dissolved, begin whisking until the "egg" is frothy.***
Add the "egg" to the avocado mixture and blend well.
Slowly, fold the avocado mixture into the flour mixture.
Once it's thoroughly combined, you can then fold in the berries.
Spoon the batter into the prepared miniture muffin tin.
Start checking the muffins 30 minutes in. They might need just a few more minutes.
Let them cool for 10 minutes before removing them from the pan to allow for setting.
Notes
I sprinkled mine with some almond crumbles (threw some almonds in the food processor for a few pulses). It added amazing texture and a slightly salty tastes. You could also sprinkle this with a streusel like topping like Ali does in the
original recipe
.
I will typically have left over batter (even after eating a lot of it).  My absolute
favorite
thing to do is put it in a loaf pan (lined with parchment paper, of course) to make a thin baked layer.  It usually takes about the same amount of time to bake as the muffins (or up to ten minutes longer).  You will want to let it cool for ten minutes.  After that you can remove it from the pan and cut in to slices.  This is my breakfast bread!  
Or
whatever bread.  I've made ice cream sandwiches, "cream cheese" sandwiches, french toast…the list goes on.  Explore your options.  What sounds good to you guys?
Oh, and sorry for all the "lame" references.  You really aren't.  It's me, not you…
Are you needing to get rid of your berries before they spoil?  Use them in this delicious shake!